Habib was a versatile film hero in Pakistani Urdu and Punjabi films, who played the young-to-old roles, when he was on the peak of his film career. His first film Lakht-e-Jiggar was released in 1956 and his last relased film was Teacher in 2015 - a remarkable film career of 59 years..!
Habib was first film hero to complete 100 films landmark. He was also the third most successful film hero in both Urdu and Punjabi films after Sudhir and Ejaz. He was also the second generation of top film heroes after Nazir, Sudhir, Santosh and Aslam Pervez from the 1950s.
Habib's Urdu films
Habib was introduced by film director Luqman in Urdu film Lakht-e-Jiggar in 1956. He played a role of younger brother of Madam Noorjahan, who was main heroine in this film. Despite many flopped films, he continuously appeared in large numbers of films during the 1960s. In his first ten years as film hero, his total Urdu films were more than 100 but successful films were few of them. He got breakthrough from film Admi in 1958 and other famous Urdu films were Zehr-e-ishq (1958), Ayaz (1960), Surayya, Speran, Aulad, Mehtab (1962), Maa kay Aansoo (1963), Khandan, Aashiyana (1964), Fashion, Dil kay Tukrey, Eid Mubarak, Devdas (1965), Dil aur Duniya (1971), Pardes (1972), Haar geya Insan and Waqt (1976). Habib's Urdu film career as hero was ended by the successes of Mohammad Ali, Waheed Murad and Nadeem from the mid 1960s.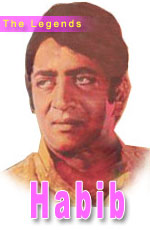 Habib's Punjabi films
Habib's first Punjabi film Shera in 1959 was a flopped film, but his third film Mouj Mela in 1963 was a super hit musical film. Although, he was second hero in Pakistan's first platinum jubilee film Jeedar (1965), but he could not succeeded until 1967 when his film Dil da Jani got a huge success on box office. It was the same year when the dominating Punjabi film hero Akmal passed away and Habib (with Ejaz) took over the status of super stars heroes in Punjabi films. (Sudhir was super star since the 1950s). Habib's peak period as Punjabi film hero was until the mid 1970s. Some of Habib's famous Punjabi films were Lado (1966), Babul da Vehra, Chann 14vin da (1968), Chann Veer, Veryam, Mukhra Chann Varga, Gabhru Putt Punjab day, Genterman (1969), Taxi Driver, Att Khuda da Vair, Chann Puttar (1970), Dunya Paisay di (1971), Zaildar, Sajjan Be-Parwah, Basheera 1972), Sher Khan (1981)..
Habib & Ejaz
There are some very interesting similarities between Ejaz and Habib:
Habib's biography
Habibur Rehman was a highly educated person with three master's degree in English, Urdu and Persian. He was very handsome, ideal and stylish film hero. He married thrice, first wife died and his second wife was superstar Naghma, but they separated in the late 1970s. Habib lived with his third wife and two sons and died on February 25, 2016 at Lahore. He was 76 years old.