Sabiha Khanum was the most successful film heroine in the 1950s. She was introduced as co-heroine in film Beli (1950). She was first heroine of the first ever silver jubilee film 2 Aansoo (1950) and also the first ever golden jubilee film Sassi (1954). Sabiha was also first heroine of Pakistan's first ever blockbuster film Dulla Bhatti (1956) and appeared in many big movies as heroine like Gumnam (1954), Qatil (1955), Chhoti Begum, Sarfarosh (1956), Ishq-e-Laila, Waada, Saat Lakh (1957), Mukhra (1958), Mousiqar (1962), Daaman (1963), Kaneez (1965) and Sawal (1966).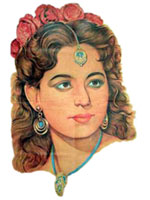 Sabiha Khanum was born in Gujrat in 1935. Her mother Balo (Iqbal Begum) was a famous stage and film actress in the 1930's. She acted in Heer Sial (1937) and Sassi Pannu (1938). Sabiha's father Mohammad Ali Mahiya was producer of Sabiha's famous film Naji (1959).
She also sang some songs as:
Sohni Dharti Allah Rakhay, Qadam Qadam Abad..
Jug Jug Jiye Mera Piyara Watan..
Sohniya way, mukh tera charhdi Saver a..