Neelo was a superstar film heroine in the 1960s. She was heroine of historical Urdu film Zarqa (1969) which ran for more than 100 weeks in Karachi's cinemas and became the first ever diamond jubilee film in Pakistan. She was also the first heroine of Punjabi film Khatarnak (1974) which ran for more than 100 weeks in Karachi.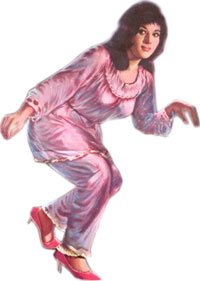 Her Punjabi film Jeedar (1965) was first platinum jubilee film in Pakistan as well.
It was a very interesting fact, that Zarqa (1969) was her last film when she left film industry. After the death of her husband writer and director Riaz Shahid in 1972, her comeback was with another diamond jubilee super hit film Khatarnak in 1974.
Neelo began her film career in a minor role in a Hollywood film Bhowani Junction, which was shoot in Lahore in 1956. She was introduced in her first film Dulla Bhatti in the same year. She got breakthrough from super hit musical film Nagin in 1959 and appeared in more than 140 movies. Neend, Koel, Sathi (1959), Darvaza, Azra, Banjaran (1962), Mouj Mela, Shikwa, Daaman (1963), Dachi (1964), Gehra Dagh, Beti, Mera Mahi (1964), Lado, Badnam, Payel ki Jhankar (1966), Dil da Jani, Yaar Mar (1967), Zarqa (1969), Khatarnak (1974),  Sir da Badla, Dhan Jigra Maa Da, Jailor tay Qaidi, Sultana Daku (1975), Pindiwal (1976), Jatt Kurrian Tun Darda (1976), Danka (1977), Ajj Dian Kurrian (1977), Ghunda, Nazrana (1978) and Nageena (1990) were some of her big movies.
Neelo was born into a Catholic family with name Cynthia Alexander Fernandes. She adopted the name Abida Riaz after embracing Islam at the time of her marriage to film screenwriter and film director Riaz Shahid. She died on January 30, 2021 in Lahore.