Ejaz will be remembered for his classic role as Ranjha in film Heer Ranjha. He was also the first ever diamond jubilee hero in Pakistani films. Despite the criticism of shortcoming in acting and bad accent in Urdu language, he was the most successful film hero on box office in the late 1960s.
Ejaz started his film career from director Munshi Dil's film Hameeda in 1956, and his last film was Jhoomar Chor in 1986, which was directed by his father-in-law Sharif Nayyar.
Some facts about Ejaz
Ejaz as producer
Ejaz was a successful film producer. His films Heer Ranjha 1970), Dosti (1971), Sholay (1984) and Moula Bakhsh (1988) were all time super hit films. Heer Ranjha is a classic romantic film. His other three produced films Murad Baloch (1968), Dulla Haidry (1969) and Punnu di Sassi (1972) were flopped.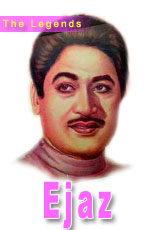 An ideal hero for folk stories
Ejaz was an ideal hero in romantic films based on folk stories. He had the highest number of title roles in these kind films. Here are some more details:
Ejaz & Habib
There are some very interesting similarities between Ejaz and Habib..
Ejaz's biography
Ejaz (full name Ejaz Durrani) was born in a remote village of Jalalpur Jattan, District Gujrat in 1935. He passed his B.A. from Jhelum and moved to Lahore and got chance in film Hameeda in 1956.
He was married with Madam Noor Jehan in 1959 and got three daughters with her, but they were divorced in 1971. In the beginning of the seventies, he had an affair with Firdous and later he married famous director Sharif Nayyar's daughter.
Ejaz was producer and cinemaowner - Sangeet cinemas at Lahore and Rawalpindi were owned by him. His film company was Punjab Pictures.
He was jailed in London from 1978-83 due to a heroin case.
(This article was published on 31.7.2006)