Rani was also among the few film heroins, who were successful in both Urdu and Punjabi movies. She was seen as heroine in almost three decades and she appeared with many known and unknown film heroes in her long film career.
Rani's first film was Mehboob (1962) but she struggled many years to become a top heroine. Film Devar Bhabhi (1967) made Rani a super star heroine after Shamim Ara, Zeba and Deeba in Urdu movies, followed by Behan Bhai (1968), Anjuman and Shama aur Parwana (1970), Tehzeeb (1971), Umrao Jan Ada,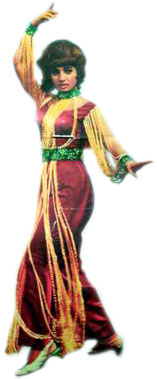 Baharo Phool Barsao, Naag Muni and Khalish (1972), Ik Gunah aur Sahi (1975), Surayya Bhoopali (1976) etc.
Bhatti Pictures made Rani the third most famous Punjabi film heroine after Naghma and Firdous in the peak period of Pakistani film industry (1960/70s). Chann Makhna and Sajjan Pyara (1968), Jind Jan and Kochwan (1969), Dunya Matlib Di and Sajjan Beli (1970) etc. were some big movies. She had many other super hit Punjabi movies as well.
Rani was born in 1946 in Lahore and died on May 27, 1993.
Read more on Rani by Mohammed Ayub Qureshi, Saudi Arabia
Rani's real name was Nasira. She was born on December 8, 1946 in Muzang, Lahore. Her father was a driver of Mukhtar Begum - the wife ofAgha Hashar Kashmiri and sister of Malka-e-Ghazal Fareeda Khanum. Mukhtar Begum took over Rani for proper upbringing. Mukhtar Begum was a singer herself, settled in Karachi and wanted Rani to follow, but Rani's voice was not suitable as singer. Rani was interested in dancing and as she fulfilled through her films. Mukhtar Begum gave the film name Rani and it was also Mukhtar Begum who gave Noor Jehan her screen name from Allah Wasai.
Rani's first love was Kemal but could not get married due to some reasons. When Rani got name, fame and wealth, her mother resumed her relationship with her daugher. During the absence of Mukhtar Begum (out of Pakistan for treatment), Rani moved to another house with her mother. When Mukhtar Begum returned from abroad, she was shocked to know that Rani had left her, but it was her love for Rani that she never emptied Rani's room of her belongings.
Rani married thrice in her lifetime. First to top film director Hassan Tariq who divorced her in the 70s. Just after her marriage with an Industrialist, producer and Babur Cinema owner Mian Javed Qamar from Faisalabad, it was discovered that Rani had cancer. After knowing this Javed Qamer divorced her. During the treatment in London, she met famous crickter fast bowler Sarfaraz Nawaz and married with her but later they went their seperate ways.
At the last days of her life at the hospital's bed, the only thing that kept Rani going was the wish to see her daughter married off and once that was done, she died just a few days after Rabia's (Rani's daughter) marriage to Dr. Anwar.
After exactly 33 days of Rani's death, her mother who was seriously sick and never knew of her daughter's death, also passed away. Rani's only sister also died three months later.