Film Teri Yaad was based on a typical formula story as a rich man who gave his wealth to his new born daughter after his death, but she was killed by a greedy man. The widow of the rich man got an orphan child, who grew up and fall in love with greedy mans son. Then some romance, music, dance, drama and in the end of the film the widow got revenge from the greedy man who committed suicide and hero heroine got each others - Finish!
Performance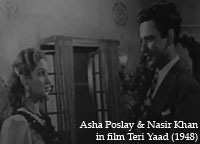 Asha Poslay was main heroine with Nasir Khan (the younger brother of Dilip Kumar), both main artists were not impressive. Najma, Rani Kiran and Jahangir Khan played supporting roles.
Nazar was a great discovery who became the first super star comedian in Pakistani movies. Film director Daud Chand had an expirence of ten years since his film Sassi Punnu (1938) was famous before partition, but his performance was average. Film lyricists did well and music was best part of this film, but not any single song was recorded on gramophone. Asha Poslay and Rani Kiran's father Inayat Ali Nath was music director. Cinematographer Raza Mir had very tough time with poor technology and cameras.
Film business
Film Teri Yaad ran for five weeks on its main cinema in Lahore. It was not bad in 1949 when Indian films freely were screened on Pakistani cinemas. Therefor this film was not "dead-flop" as it has been told in Pakistani media, it was an average business, also in Karachi where it ran for five weeks on its main cinema.