Inside the largest online database of Pakistani films
The Pakistan Film Magazine is part of mazhar.dk (now pakmag.net) and was launched in 1999 to document Pakistan's history and culture.
Sher Khan December 05, 2013
Mazhar Iqbal is not one to talk about himself, but his personal endeavour has turned into the most thorough archive of Pakistan's cinematic history. Iqbal's website, the PAKISTAN FILM MAGAZINE, is the largest online database for Pakistani films to date.
About this site
Pakistan Film Magazine is the first and largest website on Pakistani films, music and artists with detailed informations, videos, images etc. This is an individual effort and a part time hobby, and the main aim is to compile and preserve the history of Pakistani films. It was launched on May 3, 2000.
Click on the image below and visit the one of the last manual-edited or non-database website from 2012..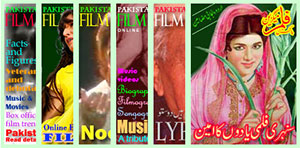 More archived pages of Pakistan Film Magazine since 2000..
"When I began to surf the internet in the late 90s, my searches on Pakistani movies, actors and music failed to provide any results. Even searching for Heer Ranja gave results of Indians movies only," says Iqbal, who has lived in Denmark for most of his life.
"I've seen movies from around the globe. No doubt they are both technically advanced and professionally made, but our movies are the best entertainment for any average Pakistani like myself."
The Pakistan Film Magazine is part of mazhar.dk (now pakmag.net), which Iqbal launched in 1999 as a hobby to document Pakistan's history and culture. His own interest in cinema has been inherent since he was a child. The website, which has been functioning for over a decade, has information on more than 4,000 movies, 4,500 artistes and 6,500 songs, with complete movies for online viewing as well.
"I still remember many songs from Radio Pakistan Lahore's very popular programme Aap Ki Farmaish, with additional information such as film, singers, poets and music director's names. I also remember many movies, trailers and songs on black & white TV. I will never forget my first cinema experience at the age of just seven, in 1969," says Iqbal.
A young film enthusiast, his grandfather would give him pocket money to buy film editions of Jang, Mashriq, Imrooz, Musawwat and collect weekly film magazines such as Musawar, Tasawur, Tasvir, Mumtaz, Screen Light and later, Nigar. By the time he migrated to Denmark in the 1980s, he had a vast collection of Pakistani films and had collected a large amount of information on local cinema.
His passion for cinema inspired a larger endeavour; to make a publicly accessible online archive for Pakistani film. After the relative success of his news-portal mahzar.dk (now pakmag.net), he made a separate website for Pakistan Film Magazine in May 2000. The first content was a review of iconic Punjabi film Heer Ranja, with complete film details such as cast credit, music information and unique images from the film which he took from his digital camera.
"I have a very strong point-of-view on movie making in Pakistan. I believe that we should make more local movies with small budgets; it will increase the interest in local cinema. We should also change the main theme of our movies, since the most popular subject is our social and cultural problems," says Iqbal.
"Personally, I hate actions movies, but I know that these movies are more appealing to the public. Female cinema-goers prefer romantic and musical movies, and the golden era of the 1950s-70s, consisted widely of these types of movies."
After taking initial steps to increase on his website, Iqbal published a complete chronicle of film history dating back to 1948. His source of information was the Urdu film directories, compiled by renowned film journalist Yasin Gojra. Famous journalist and writer Aqeel Abbas Jafri helped him make corrections of dates related to artistes and films.
As the site expanded, Iqbal was faced with an issue of technical expertise, in which he had to publish information page by page, making it necessary to develop web design skills. He had heard about online database technology and soon enrolled at Copenhagen University in 2011, where he obtained degrees in both web development and design.
He used this newfound expertise to develop a complete database which streamlined his archiving process. This year, the reworked website was completed and uploaded a database of 3000 films from the pre-partition era, marking the celebration of 100 years of cinema.